Steps of SEO Audit Process to Boost Your Google Ranking
Below are a few steps of SEO audit process, if you want to increase traffic to your website and nail SEO. Now, you will ask what is the SEO audit process ? SEO Audit Process is a way to audit or you can say analyze your website's SEO, which helps in knowing the loopholes where your website is lacking in getting the traffic.
we will provide you with a comprehensive approach to audit your website through a SEO perspective. if you are not willing to do it on your own then you can hire digital marketing companies who provide SEO audit services.
Here are a few best SEO audit tools which you will be required to do this process.
Google Analytics
Google Seach Console
Google Page Speed Insights
Google's Structured Data Testing Tool
Ahref
Copyscape
SERP Simulator
Web Page Word Counter
1)         Check that only one version of your website is browseable.
It means you need to check whether your site is secured or not. For that, you need to enable HTTPs for your website. It is also called SSL (Secure Socket Layer). Secured site means data going to and from your website is secured. In a secured website all the information will be in an encrypted form, which makes your site a secured one.
For that, all you have to do is:-
Buy a dedicated IP address, a dedicated IP address is used by only one website.
Buy a SSL (secured socket layer) certificate.
Activate the certificate
Install the certificate
Update your website to use HTTPs
2)         Set a website crawler
Start a website crawler to run in the background. SEO Audit Tools like Beam Us Up or Screaming Fog can be used for that. Website crawler works like Google, it is going to spider all over the site and give all the information about its structure and current SEO setup.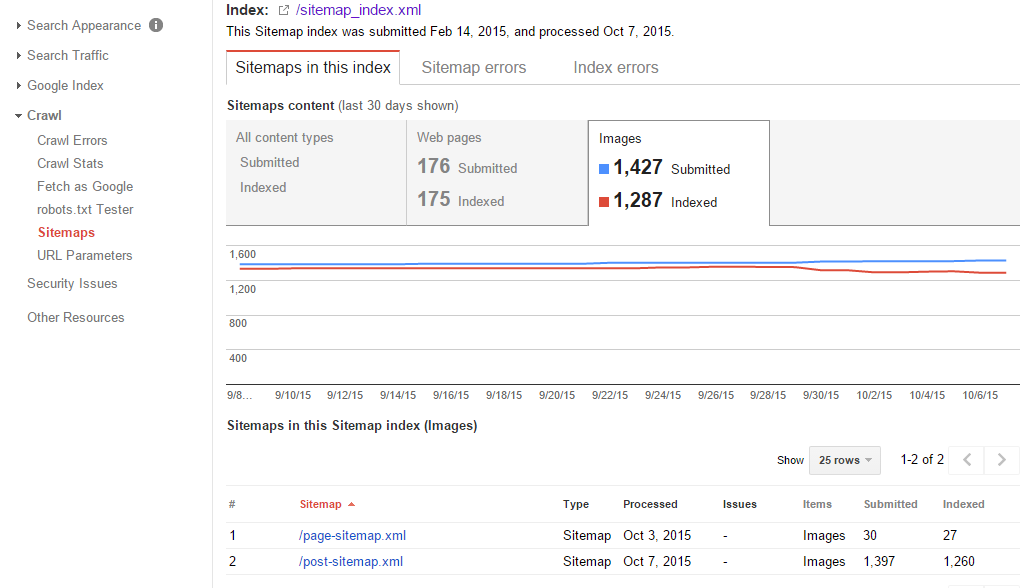 3)         Check your website is indexed or not
Check your website is indexed on Google or not. You can do it by using Google Search Console. Go to  Google Search Engine > Google Index > Index Status.
In case, if you are not using Google Search Console you can do it by typing "site: search operator" on Google search.
You will also get to know how many pages Google has indexed for your domain name.
For example, Site: digitalmarketinginjaipur.com                                                                                                                 you will find 39,200 results for "Site: digitalmarketinginjaipur.com".  It means 39,200 pages are indexed in Google.
4)         You should rank for your brand name
Go to Google and search for your website. If your website does not appear in the number one position in the Search Engine Result Page, it means Google thinks another site is the appropriate result for the branded term. Mostly this issue occurs when you use a generic term as your brand name.                                                                                              This issue can be solved by:-
Strong link building
Doing a PR campaign
Citation building on local directories
Make sure your site is registered on MY Google Business Listing.
Ensure your site is present on all the major social networking sites
5)         Perform some basic on-page SEO
Do some basic on-page SEO checks. Check the title tags, see if they have relevant keywords with decent search volume. Make sure they are not truncated in the search result.
After that go for Meta description, it does not influence a site's ranking. But, a well-written description can get you more clicks, if it is communicating the key USP for the product and service of your company.
H1 tags play an important factor in ranking. Make sure every page of your site has a unique and descriptive H1 tag. It should communicate your site's primary purpose and should have 1 or 2 relevant keywords.
Do not forget to use subheaders like H2, H3, etc. They provide you with an opportunity to target secondary keywords or phrases. They should be used nicely to break up the content of every page.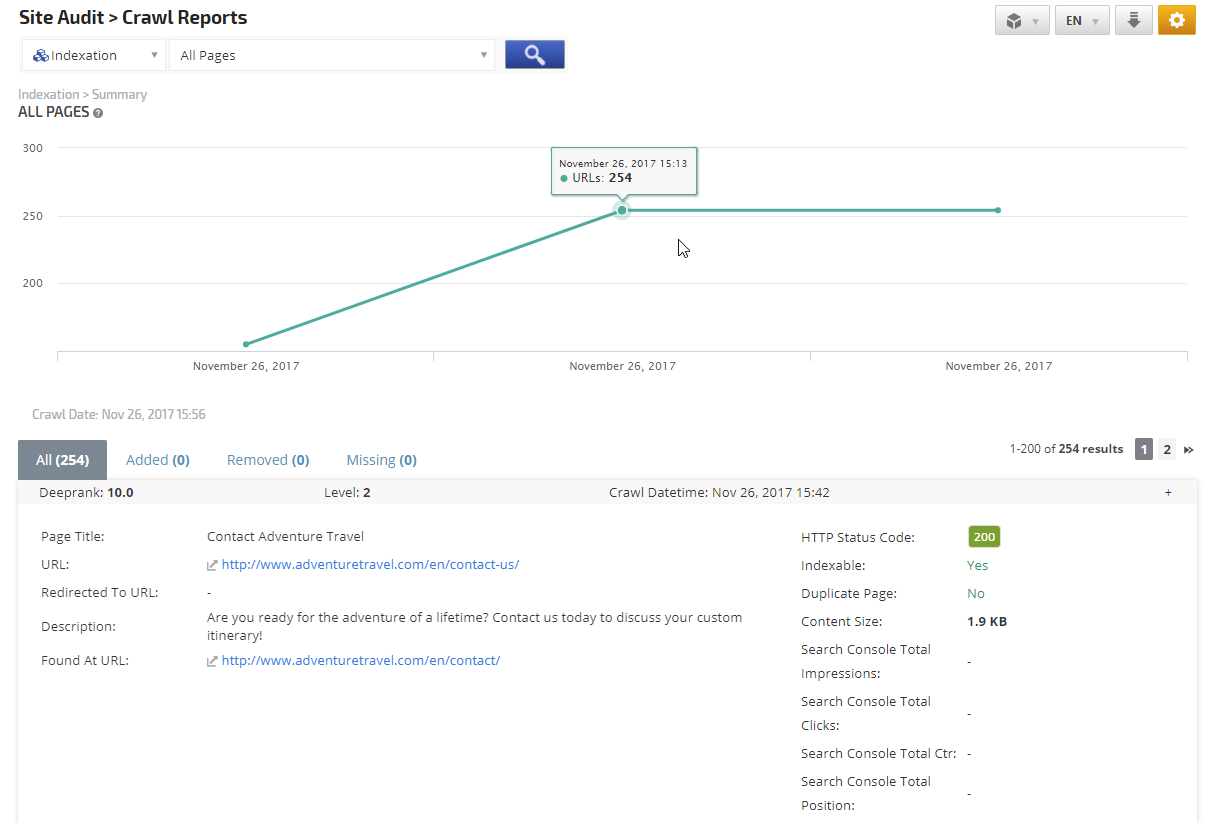 6)         Check for more SEO issues after getting crawl reports
After doing SEO manually, you should check for deep issues which can be noticed by getting crawl reports. For this, you can use tools like Ahref site audit. These crawl reports are going to give you a list of issues to fix. Go for fixing errors first before moving on to warnings and notices.
7)         Check for duplicated and thin content on your website
Having huge duplicated content is too bad for your website. It can get crushed by Panda. You can check for duplicated content on CopyScape.
Having your content duplicated by other website is even worse.  It becomes difficult for Google to recognize which is the original version of the content. It can further lead to the ranking of the wrong version. If you find the duplicated content of your website, make sure they are using backlink to your site.
Duplicated content is not the only problem. Having thin or you can say very low content is also a problem. They do not help in ranking. In fact, they provide no value to your website. It can also be checked with the help of a tool. And once you notice the thin content, it would be good if you get rid of that content as soon as possible.
8)         Check if your website loads faster
Check your website is loading faster or not. Websites loading faster with good quality content helps in ranking high. Sites which load faster provides a better user experience than the ones which loads slower. Google's Page Speed Insights tool can be a bit helpful in checking slow loading issues of a page. Or else tools like Pingdom, GTMetrix or Ahref site audit can also be used. These will reduce the efforts to check each page manually. After you get the list of slow loading pages, you will have to optimize them.
9)         Check for structured data errors
The inclusion of structured data in content is good for ranking your website. Structured data like a review, product information and events can be beneficial. But it can be done to a certain extent. You can use Google's structured data testing tool to check for errors. It will do all the testing and return the errors which you need to fix as soon as possible.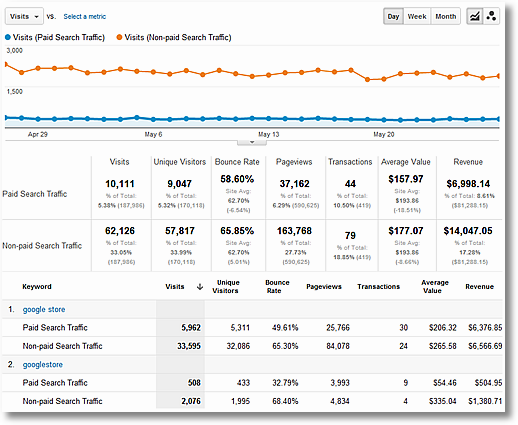 Source: https://www.kaushik.net/avinash/google-analytics-custom-reports-paid-search-campaigns-analysis/
10)      Do an analysis of organic search traffic
You can check the performance of your website through Google Analytics. Get the reports on your site's current search traffic. After that check which page is bringing the maximum traffic.
Next, check for the monthly performance of your site. This will give you the information whether the search traffic is increasing or decreasing.
Lastly, go for checking the weekly performance of your site to notice any spikes or dips.  You will notice some dips during the same time of a year. It is because of a holiday season or something when people are less active on the internet.  Usually, the decrease in traffic is the result of Google penalty.
11)      Check whether the rankings are going in the right direction
Searching for organic traffic will not give you information about your ranking's progress. If there is a decline then it may be because of Google penalty or outdated content. You should also check the rankings for certain keywords with the help of organic keyword report.
12)      Check for the pages ranking high or in position 5-10 for high volume keyword
Using Ahref's Site Explorer, you can search for the pages ranking in position 5-10 for high volume keywords. After getting the list, you need to boost those pages. For that you have to do activities like internal linking, backlinking, updating the content and optimizing the On-page for the exact keyword.
13)      Check your backlink profile
With the help of Ahref's site explorer, you can do a manual audit of your site's link profile. If the referring domain graph is decreasing, it means. You need to find the reason behind this decrease. And then put more efforts to make your link building stronger.
Now check for anchor clouds, it gives us the visualization of a site's anchor text distribution. Having maximum backlinks linked to generic and branded anchors build the trust of users. If you have backlinks linked to spammy anchors or to a large number of keyword-rich anchors. Then you need to fix them.
Again go to the referring domains, to find anything suspicious or low-quality links. Click on the DR and reverse the order of the report to get the low-quality link at the top. If you find anything suspicious then click on the number under the backlinks column. Click on the linking URL to take a deeper look. If you find any problem then fix it as soon as possible.
Also, don't forget to check for low-quality guest posts and links from irrelevant directories.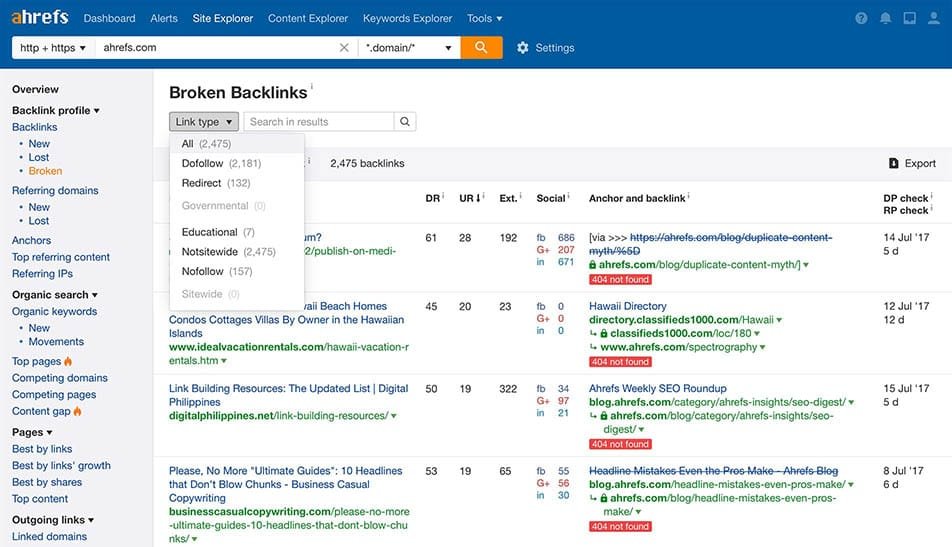 Source: https://ahrefs.com/broken-link-checker
14)      Check if there are any broken links, to and from your website
Find broken links using Ahref's site explorer. Sort the result by referring domains to see which of the pages have the maximum inbound links. After getting the list try to fix those issues as soon as possible. You can replace the content, redirect the broken page to another destination or leave a 404 error message.
Broken pages need to be replaced or deleted as soon as possible as they result in poor user experience, which affects the ranking.
15)      Try to find for the content gap.
A content gap is a keyword which your competitors rank for, but you don't. To rectify this problem, you have to find who your competitors are, using competing domain reports of Ahref's site explorer. Reports will show the list of your competitors. Choose your competitors ignoring any marketplace sites like Amazon or Flipkart, and big generic sites like Quora or Forbes.
After that, go for a content gap report to enter your competitors. Here you can filter out the branded searches and keywords that are not worth targeting. Then check for the high-volume keywords to target. You can follow the same process with more competitors.
16)      Go for a full content audit
Lots of low-quality content can drag you down in rankings. To fix that problem you have to continuously audit your content. Find out the low performing content that brings little to no search traffic. Update them to do improvements and re-launch them.  Otherwise, delete that content and redirect the URL to a relevant page, so you don't lose any link equity of your site.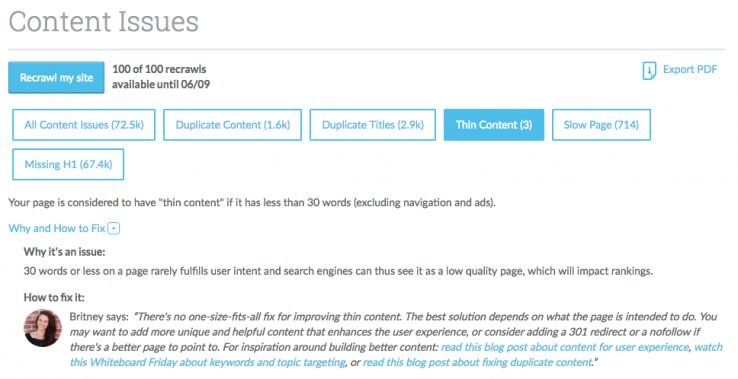 Source: https://moz.com/blog/content-audit
Conclusion
So now you have audited your site on your own without any outside support. You can go for the detailed SEO audit if you want. All you have to do is go through it again. But this time check for more details. You can become a pro in it if you are willing to put in more efforts. A detailed audit will take longer to finish, which will require both patience and persistence.
You can also check our video on steps of SEO audit process. For that, click on the link below:-